Top Notch® 9 Solution Dyed Polyester Fabric

TOP NOTCH® 9 is a 100% solution dyed polyester fabric with a fluorocarbon finish, resulting in a fabric that is breathable, reversible, water repellent and has a luxurious hand. Because the yarn is solution dyed, color fastness is exceptional. TOP NOTCH® 9 is the ultimate fabric that combines strength, abrasion resistance, dimensional stability and UV resistance. TOP NOTCH® 9 can be used for many outdoor applications such as marine tops, trailer covers, awnings, gazebos, canopies, patio furniture and anywhere that a reversible and breathable fabric is needed. TOP NOTCH® 9, bringing a new "light" to solution dyed fabrics.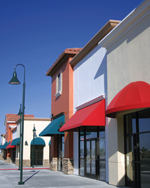 TOP NOTCH® 9 is 60" wide, 9.0 ounces per square yard, and is dimensionally stable. The solution dyed polyester fabric won't fade and provides superior strength compared to other solution dyed fabrics. Because of this, it is ideal for any application. TOP NOTCH® 9 is also available in 2 meter width in select colors.
Other benefits include:
Colorfast and UV resistance
Stronger than acrylics
Better abrasion resistance than acrylics
Keeps appearance for years
Dimensionally stable, won't sag or stretch
High water resistance
Mildew resistant
Protected by a 8 year limited warranty