Marine Applications
Whether your boat is being trailered to the lake, at rest for the night at the dock, or being stored for the winter, you want a fabric that will protect the inside of your boat from the harm of Mother Nature. Don't settle for better known brands. Most of Marlen Textiles' fabrics can be used in marine applications. You can trust that if you use one of our fabrics, you will have a product with unmatched strength and element protection, all brought to you by a company that is unmatched in standing by its products. So pick a fabric that is the best performing, not necessarily the best known!
Uses:
Bimini Tops
PWC Covers
Fly Bridge Biminis
Mooring Covers
Winter Storage Covers
Motor Covers
Cockpit Covers
Travel Covers
Fly Bridge Covers
Fender Covers
Sail Covers
Toerail Covers
Caprail Covers
Hatch Covers
Windlass Covers
Pedestal Covers
Companionway Covers
Windshield Covers
Convertible Tee Tops
Full Enclosures
Fly Bridge Enclosures
Camper Enclosures
Aft Deck Enclosures
Traditional Dodgers
California Dodgers
Drop Curtains
Side Curtains
Buggy Top
Spray Hood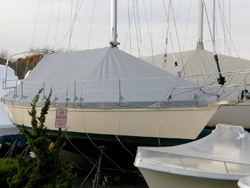 MFA Award winning cover made from TOP GUN® by Sea Canvas
Boat slip cover made from TOP GUN® by Davlin Ontario Inc.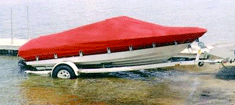 Trailer cover made from ODYSSEY® by Shoremaster Fabrics.