Quality Control/Top Gun/Top Gun Survives Storm

New Quality Control at Marlen

With today's international flow of raw materials, an industry-wide issue is the rising
rate of flaws with those very greige goods. In order to address this pervasive problem
that now exists with all manufacturers, Marlen Textiles has instituted stricter quality
control procedures in its facilities, including:
· More lights at inspection winders as well as on production lines to help spot
defects
· Rethreaded inspection winders on certain products to increase field of view
when inspecting; thus catching more defects
· Inspectors now have increased responsibility by personally signing off on
specific products, by the roll. That way, if there is an issue, the inspector who
reviewed that product becomes responsible for the product when it leaves our facility
· Grip tapes on inspection winders (that helps pull fabric through the winder) has
been replaced with a rubberized grip tape that will not leave possible marks on fabric
rolls
· The "Known Defects" code list is now being updated daily, in order to alert
inspectors to any and all raw materials issues before supplies ever arrive. Therefore,
we have now increased the amount of defects being looked for during inspection and
being more selective with what is sent out
· Stricter tracking of roll inspections: Marlen's ERP system now tracks every roll
number beginning with its original production work order. Now, QC inspection
information is available relating to individual employees working on all parts of the line,
including the final inspection station. (even a better reason for all customers to note
their roll numbers!)

Product Highlight: Top Gun® (and good news)

Although it's almost everywhere coated fabrics are used, we thought we'd share a little
on one of our most popular products! Top Gun is the premier coated fabric on the
market, and available in its original 11.5 weight, a 9 ounce weight (Top Gun 9, formerly
called Mustang), a one sided version (Top Gun 1S, formerly called Heritage) and a
flame-retardant version (Top Gun FR, formerly called Holiday). Click here to read
more, including a new announcement about Top Gun!
Top Gun is an acrylic-coated 100% woven polyester fabric (600 denier) utilizing a
proprietary process to coat both the top and bottom, thus allowing the fabric to be
completely reversible. It is characterized by excellent strength, durability, tear and
abrasion resistance, dimensional stability, UV and mildew resistance. TOP GUN™ is
the ultimate coated fabric that provides unrivaled durability, tear and abrasion
resistance. TOP GUN™ can be used for many outdoor applications such as marine
tops, trailer covers, gazebos, canopies, tarps, playground equipment covers, BBQ grill
covers, patio furniture, and many other useful applications.
The old product names were changed to make it easier to understand Top Gun
weights and features. Everyone knows the durability and strength of this industryworkhouse,
but here's some good news you may have not known: Top Gun is now
available in 2-meter wide rolls!
Top Gun is:
⁃ High in tensile and tear strength
⁃ True reversible fabric. Makes for optimum use of material when patterning
⁃ Puncture resistant
⁃ Mildew resistant
⁃ High in abrasion resistance
⁃ Multi-ply construction for maximum wear and durability
⁃ Highly water repellent
⁃ Coated with stay-true long lasting colors
⁃ Custom colors are easily made
⁃ Protected by a 5 year limited warranty

Boats wish they were tough as Top Gun!

A wind storm in late 2014 blew through Puyallup Wisconsin, causing widespread
damage to property and downing limbs on many roadways. Caught in the middle of
the storm were fabricators from Stitchmaster Upholstery, who were in the middle of
working on a boat with Bimini and roof tops made from Top Gun® fabric.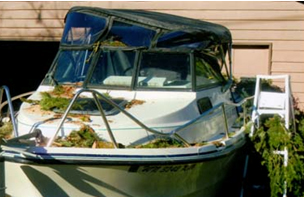 To the horror of those inside, a tree came crashing down on the boat. Luckily, no one
was injured, although the boat sustained fiberglass damage and bent stainless steel
tubing. But the boat's Top Gun® fabric? Undamaged, with absolutely no rips or tears,
despite the large tree that crashed down upon it. You can see from the photo the size
of the tree that fell - and you can rest assured that the owners were relieved that the
boat roof could be fixed with just a little bending and repair on the aluminum roof
struts, and that the Top Gun fabric was intact - no rips, tears, or snags!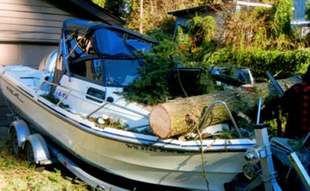 We can't always guarantee that Top Gun can stop falling trees, but when it happens, we're sure
proud of our fabric!