Company History/Top Notch® 9/T-Top Boat Covers
From the Beginning: The History of Marlen Textiles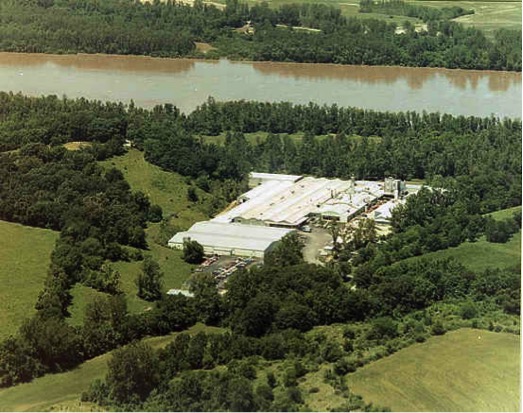 April 1, 1946
The American Waterproofing Corporation was incorporated, with its office and plant located in Cincinnati Ohio. The company produced custom finishing (waterproofing, flame proofing, and coating of fabrics) for canvas product manufacturers that did not have their own manufacturing facilities. By 1950, the company was processing over 3,000,000 square yards annually.
In 1950 an explosion and fire occurred in the plant, killing five employees and injuring twenty others. The entire building was demolished. The company did not produce any product for the next two years, and in 1952, the assets of American Waterproofing were sold to H Wenzel Tent & Duck Company. Wenzel already had a manufacturing facility located in St. Louis Missouri, that did coating and finishing for fabrics to be used in their own canvas products production plant. After the purchase of the assets, Wenzel began to solicit business from competitors under the name "American Waterproofing Corporation." They quickly realized they needed a bigger facility. They then moved to a facility in New Haven, Missouri (the present-day Marlen Textiles plant). William N. Kelley, then plant manager (since 1948) of the Wenzel finishing plant, was elected president and general manager of the newly named American Waterproofing Corporation. Over time, the company started being referred to as the Hawthorne Finishing Company.
In 1961, American Waterproofing Corporation entered into a merchandise agreement with the Kellwood Company. In 1977, the name officially changed from American Waterproofing Corp. to Kellwood – Barclay Group, Textile Division. In 1985 it changed again, this time to American Recreation Products/Coated Fabrics Division.
In 1989 DASH Multi-Corp of St. Louis acquired the Fabrics Coating Division of American Recreation Products/Kellwood, and a short time later became known as MarChem, Coated Fabrics. At the time, DASH Multi-Corp owned a separate textile plant, Western Textile Products, Hickory Street Operation (St. Louis, MO) that manufactured goods for place mats, tablecloths and glove cuffing. In 2000, the Hickory Street Operation was closed and production moved in to the New Haven facility.
In late 2012, a private equity group purchased DASH Multi-Crop. Prior to that acquisition, MarChem Coated Fabrics was spun off as a standalone company and renamed Marlen Textiles. Marlen Textiles remains privately held and is the parent company that proudly manufactures Top Gun, Top Notch, Odyssey, Softouch and other fine coated, laminated, and solution dyed polyester fabrics.
---
Top Notch 9 is like a young "Ahnold;" strong and good-looking!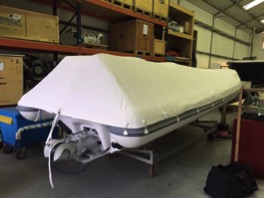 Weathered Top Notch 9 is still tougher than most brand-new competitive fabrics!
Most people looking to you to choose a fabric to cover items that are near and dear to them, want protection first, along with a material that is aesthetically pleasing to look at. For a long time, people had to choose which of those was more important as the choices were super strong fabrics, or fabrics that retained their color exceptionally well. People who choose color fastness put up with the fabric sagging, stretching, abrading, and tearing. Mostly they did this because they did not realize there were fabrics out there that provided superior color fastness AND strength, dimensional stability, abrasion resistance and overall durability. With the advances in polyester yarns, solution dyed polyester fabrics now can give you everything you want. The Top Notch family from Marlen Textiles provides exactly that. And with Marlen Textiles' superior inventory position, you'll know that when you order it, it will be in stock.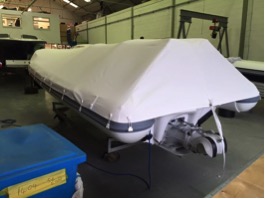 The hottest fabric on the market now is Top Notch® 9. Sales have exploded as customers (read the Application Story) are realizing what this product can provide. Here are just some of its highlights:
Competitively priced to solution dyed acrylics and other solution dyed polyesters
Industry standard 9 ounce per square yard weight
Standard 60" width. Also available in 2-meter width (certain colors only)
Solution dyed yarns, so superior color retention
Most acrylics stretch when they get wet. Top Notch 9 won't
Even when dry, much more dimensionally stable. Won't stretch or sag
Superior abrasion resistance. Holes will not appear as fabric rubs on framing
Superior tear strength. Much more resistant to tearing and falling apart
Breathable, yet water resistant
Highly UV resistant. Won't degrade over time
13 colors available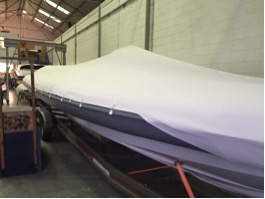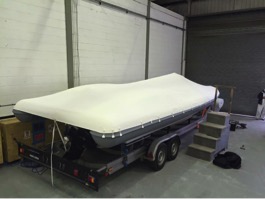 Want to know more about Top Notch® 9? Click here.
---
Our Fabrics in Action!

This month we visit a customer in the Palmetto State, in South Carolina, where there are 187 miles of sea-coastline!
Name: Kevin Blake, Sales Manager
Company: T-top Boat Covers
Location: N. Charleston, SC
Website: www.ttopcovers.com
Q: How important is picking the right fabric to how your end product turns out?
A: The end product has to match our reputation which is "Top Notch" (sorry about the pun). Our covers are shipped around the world and are exposed to severe conditions such as Wind, Sun and Rain. It's critical that the material will hold up and perform exceptionally well under these conditions.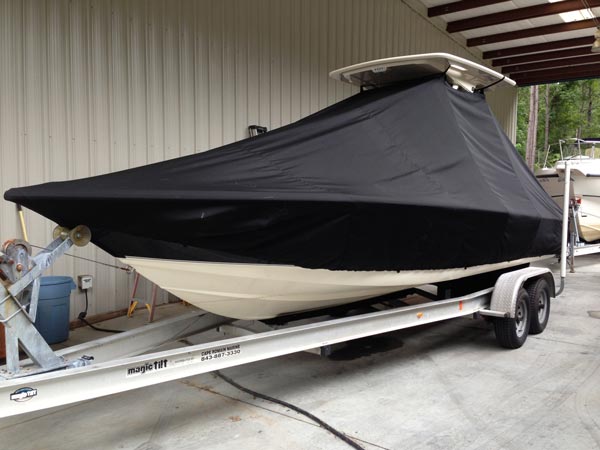 Q: What are the most important features a fabric must have for you to use it?
A: Our covers need to be long lasting and breathable. This is what our customers expect from us.
Q: What were some of the reasons you chose our fabric?
A: Strength- We need a material that can handle snow and ice accumulation.
Breathability - We need the material to breath so that our customers do not have any mold or mildew concerns.
Solution Dyed - We do not want the color to bleed or rub off on the customers' boats.
Q: How has using our fabric helped you?
A: We were looking for a third material option to help increase profits and give our customers more options. Top Notch 9 has been a huge success for us.
Q: What end applications do our products end up being used in?
A: We manufacture Boat covers, Center Console covers, Bonnets, Dry Stack covers and Trolling motor covers. We also do a lot of custom work too.
Q: What was your customers' reaction to your finished product using our material?
A: Besides the fact that the cover fits perfectly, next is how lightweight the overall cover is. This is a big concern for our customers. They are very surprised at how lightweight it is when they put it on. Many of our customers comment on how beautiful the Navy material is. It changes color in the Sun from Navy to Black depending on the angle you're looking from.