Happy Halloween! Trick or Treat from your friends at Marlen!
Q: How are Frankenstein and Marlen Fabrics alike?
A: A couple of bolts can let you keep ahead.
Only the Best for the Best
When you spend the money to dine at one of the best culinary experiences in the country, the last thing you want is to suffer the weather while waiting on the valet or entering the restaurant. A high-end steak house in a major Midwest city needed a new awning. So, they called on one of the largest awning fabricators in the area to discuss options. Because the restaurant offers only the best of everything: meat, sides, wine, and service, it was critical that they use the best fabric for their outside awnings. They had heard horror stories of other so-called premium fabric brands that stretch and sag and leak. They need to make sure their customers' experience is second to none, even before they walk in the door. After reviewing a variety of options, they selected Top Notch 9 because of its superior dimensional stability, its canvas look and feel, and its unrivaled durability. We are proud that one of our products was selected and is now displayed on the exterior for one of the most widely-known fine-dining restaurants in this city. Because this celebrity restaurateur offers only the best of everything, it is an honor that Top Notch 9 was chosen by both the end customer and one of the areas top fabricators to be the public face of such an impeccable establishment.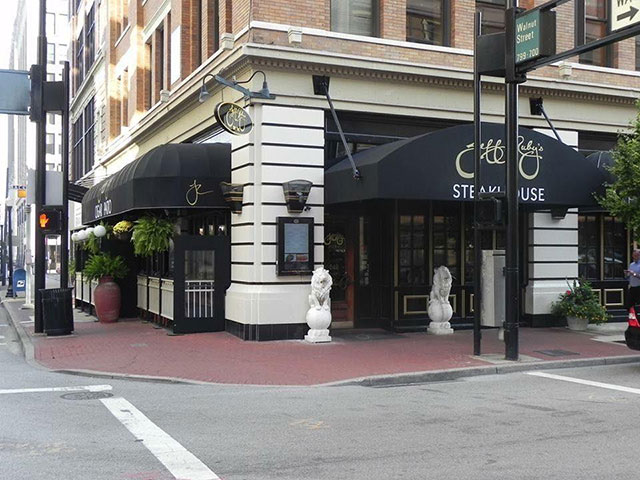 Top-Notch 11.5 is MORE than fine,
But don't forget we have the same in 9.
top-notch adjective \ˈtäp-ˈnäch \
Definition of top-notch : of the highest quality : first-rate
Marlen Textiles introduced Top Notch Fabric in 2004 with the idea of a fabric that really is the best. The 11.5-ounce fabric was immediately acclaimed as the strongest solution-dyed fabric on the market. In 2012, Marlen Textiles introduced Top Notch 9, taking all the qualities of the original Top Notch and offering it in a common 9-ounce weight, without really having to sacrifice anything.
Top Notch 9 is:
Solution dyed; Color lasts longer

Superior abrasion resistance among solution dyed/breathable fabrics; holes won't "show up"

Superior tear strength among solution dyed/breathable fabrics, won't tear and rip

Reversible; easier patterning

Breathable; no venting needed

Superior dimensional stability; it won't stretch or sag

Familiar 9-ounce weight

Excellent hand; Feels more like true canvas

Printable; All types of printing/graphics work: pressure sensitive, paint, digital, inset

Weldable: both with and without tape

Inventory: all colors in-stock

Made in USA
Call Marlen Textiles for a color card or to find out more. Click here to find a stocking distributor: https://www.marlentextiles.com/top-notch-9-distributors.html
A Changing of The Guard at our Plant
Marlen Textiles announces the retirement of Dave Fischer as General Manager and the promotion of Alex Breig to fill that role. Dave Fischer was brought in to run the plant in September 2015. His task was to clean up operations, and increase efficiencies in the manufacturing facility. Dave brought with him 30+ years' experience in running operations and then got to work. Within 1 year, the plant was already more efficient. Dave was very instrumental in keeping labor and overhead rates from rising too fast and helped Marlen keep price increases to a minimum over the past 3 years. Dave's last day will be October 31st, but has agreed to be "on call" for any tough items that come up . . . as long as we promised not to call too often!
Replacing Dave will be Alex Breig, who has been with Marlen Textiles for 9+ years, starting out in quality control at the plant. Within two years he was promoted to Project Manager. Subsequently he rose to Production Supervisor, then to Production Manager. In January of 2018 we hired a new Production Manager and promoted Alex (again!) to Assistant General Manager to begin training to take on the role full time.
Alex is an incredible asset for Marlen Textiles. As a matter of fact, a few weeks ago Dave was trying to clean some stuff up before Alex left for IFAI Expo and made the comment "I am trying to get a bunch of stuff done before the guy who basically makes this place run is out of the office for a few days." High praise for Alex and here's to hoping him reading this doesn't make his head swell!